We have decided to open a spot for a single custom race per wipe, instead of vaizairds, which can be made by the aizen if they so wish. We will test it this wipe, and if it works, next wipe we should be open for custom race applications, but now, we have one ready.

Race Name: Spiritual Human

Description: These are humans born with an exceedingly strong link to the spiritual world, this link is made in the form of an object, which once found by them, awakens their spiritual powers. This object is soulbound to them, and if they are separated, the object will return to the owner in a few days. While they have a much greater spiritual prowess than normal humans, they still dont equal to a shinigami's or quincy's, but can even match them with enough tactics and by being smart.

For them to access their full potential, they would still have to become another race, either shinigami, quincy, or hollow. However, when they do, their link will allow them to retain their memories, and will also have an influence on their powers. Each will have a peculiarity, not exactly an advantage or an extra ability, but they will have slightly different abilities, matching their own personal differences, which will be linked to their objects, which can be anything that can be worn.

For example. If you have a necklace, and become a quincy, you can use the necklace to activate your quincy powers, and give them a slight different. I stress that this isnt a BOOST to your abilities, it isnt an extra power, but its just a DIFFERENCE, a different way in which the SAME powers are applied.

The second thing about this race is that you will have two choices for your character. There is a mercenary organization called Lock, which gathers all spiritual humans and employs them as assassins. You can choose to be in this organization or choose to not have been approached by it yet, but then they would come after you to try and recruit you. The leader of the race would be the president of the organization, and such position is still open, and can be attained through RPing.

If you are interested, post a reply on this topic with the details on your character. Name, age, gender, a description of your soulbound object, what race you wish to become in the future, and a description on the effect the object would have upon your race.
Bleach Odyssey Administrator




Posts

: 53


Reputation

: 27


Join date

: 2012-02-05


Location

: My house.


Race

: Your Face



Name- Azekial Anurmae

Age- 17

Gender- Male

Description of Object- A silver bracelet with a violet stone encasing the middle of it.

Effect- It would cause the Zanpaktou (Shinigami) to have a direct chain to the blade. Whereas the chain isn't long and causes the blade to come unsheathed when he lifts his hands up completely, it's still a chain that can't be broken by any average means. The chain would be the strong point, whereas the bracelet would be more vulnerable. The chain extends out of that of the Velvet Stone and proves to be the heart of the object.

Whether my character is in the organization or not, I'll leave up to the admins.
Bleach Odyssey Player





Posts

: 3


Reputation

: 0


Join date

: 2011-10-07



Name: Michaêl Fenmour
Age: Around 600 years
Gender: Male
Description of Object: A small, blue-hued orb/marble.

Effect: It makes Fenmour's dreams and wishes a reality, depending on a variety of factors. How large his spiritual pressure is. How strong he is. The size/complexity of what he wants to occur. etc.

Fenmour was once an active member of 'Lock' until he died at the young age of 23 due to unknown circumstances. He changed his name and appearance before becoming a part of Soul Society, eventually achieving the title 'Captain'.
Bleach Odyssey Administrator




Posts

: 165


Reputation

: 37


Join date

: 2011-04-30


Location

: Florida


Race

: Shinigami



Name: Ishizu Sapphire
Age: Around 17
Gender: Female
Description of Object: A bright, neatly lined and custom-ed made necklace with the word "Sapphire" etched onto it. It appeared to be a fairly new and lovable necklace.

Effect: It grants her shikai passive ability to another, temporary at the cost of the passive ability supporting herself. *Basically she won't receive the bonus/ protection if she casted it onto someonelse.*



Bleach Odyssey Player





Posts

: 8


Reputation

: 0


Join date

: 2011-07-16


Race

: Shinigami



Name
: Gen
Age
: 17
Gender
: Male
Description of Object
: When sealed, it takes the form of a light blue, reflective pendant with a downward facing extension

Effect
: When released, it takes the unusual form of a rapier with a chakram embedded into the blade just above the hilt, and spikes on the hilt rim. The guard seems to be made of a kind of scaled ribbing.
Ki-Ha-Ho(黄波砲), Cañón Ola Amarilla; Spanish for "Gun Yellow Wave", Japanese for "Yellow Wave Cannon"): A technique in which Gen gathers yellow spiritual energy within the hollow portion of his blade and launches it towards his opponent, in the form of an energy blade projectile. This can be shot rapidly.


Shīrudo(シールド , escudo; Spanish for "Shield", Japanese for "Shield"): While the circular portion of his Sword is typically hollow, Gen can choose to solidify the interior of this ring at will by materializing a barrier of thick reiatsu, creating a small shield that can be used to block incoming attacks. Despite its fragile appearance, the resulting shield is remarkably tough, being able to completely nullify powerful attacks.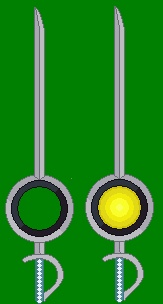 Aside from this Gen has awakened the powers of a High-Spec Human(Inoue) with the physical manifestation of his powers resembling his original pendant, only with six points instead of one. This second pendant is attached a to a hightly durable bangle capable of clashing with spiritual blades.

Gen is a high school student who has managed to use his spiritual powers to defend himself on numerous occasions. Through self training he had managed to gain a decent amount of control over his powers, despite this he has been lucky enough to avoid coming into contact with 'LOCK'. Gen has used his powers to help others on multiple occasions, from healing to defending against fatal attacks.
Gen first unlocked his abilities at the mature age of 7

, thus his powers lean towards a pacifist nature. Upon turning 13 he had his first confrontation with a Hollow, forcing him to abandon his pacifist nature. Since this Gen has improved his combative power to techniques. Gen has yen to see any other spiritual aware humans or Shinigami.
All pictures are created by me(Skarrj) through Pixel Art modeled after Bleach themes or items. Please do not use without my permission if you decide to.
Last edited by skarrj on Fri Aug 31, 2012 11:52 pm; edited 1 time in total
Bleach Odyssey Player





Posts

: 2


Reputation

: 0


Join date

: 2011-10-19



That is the best damn application I have EVER SEEN.
Bleach Odyssey Administrator




Posts

: 53


Reputation

: 27


Join date

: 2012-02-05


Location

: My house.


Race

: Your Face



Name
: Souretsu Mikomi
Age
: 15 Years old
Gender
: Male
Description of Object
: A silver bullet with the black design of a dragon emblazoned on it. With this bullet is attached a silver necklace. Obviously this necklace is worn around Souretsu's neck, and the bullet is usually neatly against his chest.
Effect
: If Souretsu was to ever to achieve Shikai, his Zanpaktou and silver bullet would fuse together during the transformation. The blade would turn into that of a Gunblade, capable of the obvious swordplay, but also being able to fire Reiryoku bullets, purely formed through Souretsu's Reiryoku. This would effectively be the special ability of his Shikai, being influenced by the soulbound bullet itself. I don't think I should get all excited and post stuff about my Bankai, seeing as it's early in the wipe anyway.
What the Shikai would look like: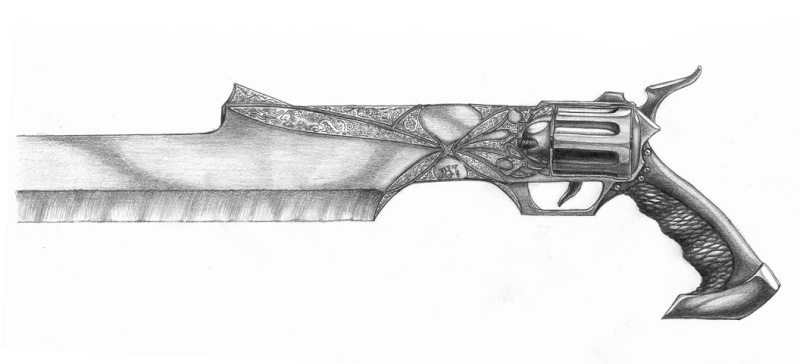 The end of the blade would show to be the general shape of a Katana, as well as a black dragon emblazoned and twisting around the blade itself in a design similar to the bullet.
For most of the background of Souretsu,
Click Here.
Although this is most of the child's background, through IC interaction, he has been through a bit more. To begin, he eventually discovered that he really could see spiritual beings, and that it wasn't just him going crazy. . . Now that he is able to -see- spiritual beings without their very form fading out of existence, he has come across a few spirits. . .
To name a few: Shinigami, Hollow, Quincy, and although he has yet to find out, a Vizard and an Arrancar. Through his training of spiritual sensing, and being around Captain level Shinigami and Vasto Lorde level Hollows, he has found that he is much more attuned to the Spiritual World. He has not yet been involved with "Lock" though has heard of their existence through a Quincy.
Obviously through IC, I would like to either become a Substitue Shinigami, or a Shinigami, the transformation into Vizard wouldn't be out of the question, but that would (I imagine) take quite a bit of IC interaction and being in the right place at the right time.
Bleach Odyssey Player





Posts

: 3


Reputation

: 1


Join date

: 2012-09-01



Ok, thank you all for the applications, full number of spiritual humans was reached. Applications closed for now.
Bleach Odyssey Administrator




Posts

: 53


Reputation

: 27


Join date

: 2012-02-05


Location

: My house.


Race

: Your Face



Name: Chimera Ru
Age: 26
Gender: Female

---

Description of Object: The object takes the shape of a silver cross earring that is attatched to her left ear, to activate it's ability, Ru would simply need to place her hand on the cross and say "Release".

Effect: After the phrase is said, the cross would shine brightly before vanishing, revealing no visual nor spiritual changes around her. In fact she is surrounded by very long, almost invisible to naked eyes spiritual threads that have two different kind of abilities. Ru is controlling 10 threads in total, each one attatched to her finger-tips.

Passive Ability: The threads that Ru utilizes during her release are capable of absorbing and combining two things, spiritual energy and electricity. To absorb spiritual energy, she would simply need to steal it from others or use her own. What goes for electricity is rather simple, she would need to steal it from any source that provides a lot of electricity. Combining those two together, she can form a rather dangerous type of element that can paralyze or just render their abilities useless.

First Ability: The first ability of these threads is capable of sending "Shocks" into the opponent's brain system upon direct contact with their bodies. During that they would be as electrified but thats not only it as they would be unable to use their own powers that requires spiritual energy. They would also feel rather dizzy as they would also be unable to use their sensor- type abilities as the blood in their head would feel like being boiled and if the target is gone through a rather long time of "Shocking" that would be over ten seconds, their body would be slowly become paralyzed.

Second Ability: This ability is a rather both defensive and offensive as she can wrap herself around with those threads to increase her defense in order to indure a deadly attack for example or form those threads into a specific form, sword, lance, spear etc. Though it would only last for few seconds.

---

Ru is already a grown up woman who lives with her dog "Raiga" in her apartment. She works as a chef, at a humble family restaurant. She rarely uses her powers as she tends to live a "Normal" life where such spiritual beings as "Hollows" do not exist.

Her first confrontation with a Hollow was a rather tough one as she had no idea of "Soulbound" powers and she was only 15 years old. On the verge of her death, the soulbound accidently activated itself, forcing many spiritual threads to wrap around hollow's head, before absorbing it's life completely. After that day, for whole ten years she didnt bump into other hollows. She has yet to see any other spiritual aware humans or Shinigami nor she does not know anything about "Lock".
Bleach Odyssey Player





Posts

: 1


Reputation

: 0


Join date

: 2012-09-06




---
Permissions in this forum:
You
cannot
reply to topics in this forum